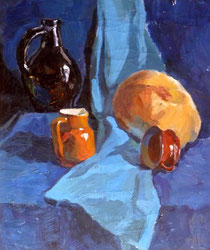 Welcome to my Homepage!
ART as a status symbol? - Art as a creative act of man, as the voice of messages that we cannot express in words, this is how we understand art.
BEAUTY captured by brush, pen, and canvas, calls us to pause, to look and linger, to admire and wonder, and to search for the not so beautiful!
Imperfection discovered in perfection and beauty is redeemed, it is in the eye of the beholder. For what is beauty without ugliness, black without white, light without shadow?
Ingeborg Gföllner
"Style is the exact impression of thinking"
Arthur Schopenhauer
Here you will find biographical material, current information about my work, courses, teaching,
and exhibitions.
I gladly accept commissions.
Mag. art Alfia Weingartner
For more and recent pictures please check the german version!!
Latest Work: Icons with brass-oklad

Click on the picture for an enlarged view!